April 30, 2009 – 11:12 am by Will Brinson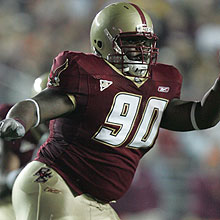 B.J. Raji nearly got screwed by the kind folks at Sports Illustrated when they released a false report (NFLDraftBible style son!) about Raji testing positive on a drug test. Fortunately, the smoke cleared (pun intended) before the draft and Raji didn't fall too far, as the Green Bay Packers picked him in the first round.
In an interview with ESPN Milwaukee, he addressed what it's like being compared to Warren Sapp, why people might think he's lazy (and can change the game the other way around) and the rumors that he tested positive before the draft and during college.
On being compared to Warren Sapp:
"One day, hopefully, if I play half as good as Warren, I'll have a shot to be a pretty good player. But I told my mom, as they wrote in the paper, that's a little far-fetched right now. I've got a ways to go to even be considered. I appreciate the compliments, but I'm no where near Warren yet."
On whether he tested positive at Boston College:
"I did."
On still smoking 'dope or weed or whatever they call it':
"No, sir. I put that behind me and it's a shame that instead of just completely admitting their error, they decided to bring up something that happened three years ago. It was a mistake that I made back then, but it has no reflection [on me] today."
On a press release to the Green Bay media from the NFL and being:
"I don't know what coaches they were talking to, because the coaches the scouts talked to in the pre-draft process would have definitely given a different answer. And I appreciate you giving me time to put my side out there, but at this point, all I'm worried about is pleasing the Packers organization."
Listen to B.J. Raji on ESPN Milwaukee 540
Tags: B.J. Raji, Football, NFL, NFL Draft, Warren Sapp