May 7, 2009 – 9:15 am by Tas Melas
As I sit here in Toronto, it's easy to look at a situation where a professional team may relocate and say: 'Well, they're not viable there, they should move.'  The Phoenix Coyotes are currently in that boat and may be moving within 50 miles of Toronto.  It's difficult for anyone outside the situation to really know what's going on – there are just so many aspects which alter things: politics, finances, the management structure, etc.  The last professional team in North America to move, the Seattle Sonics, had so many side stories surrounding their move, I still can't grasp it a year later.  Coyotes Head Coach Wayne Gretzky has mentioned his team has tried to keep the rumors of relocation out of the dressing room, but they are very much present in that empty room right now.  Glendale City Manager, Ed Beasley, where the Coyotes' arena is located, joined KTAR in Phoenix to discuss if Glendale has made any changes to make the team more viable, how important the team is to the community, and what the city is doing to keep the team in Arizona.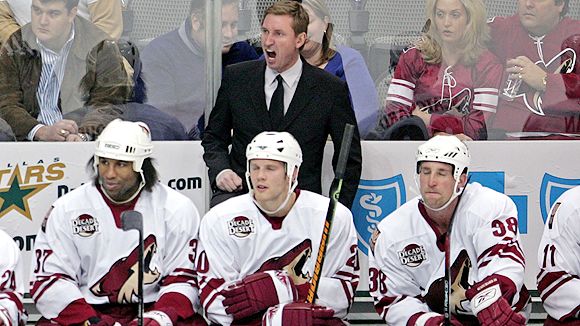 Who wants to keep the team in Arizona?
"I don't think it's only in the interest of the tax payers, it's also in the interest of the state of Arizona.  This team is important to the state, this team is important to the valley and commitments have been made by not not only fans but also individuals.  We're going to work with all the parties and of course respect and understand what the Coyotes organization has done at this point, but that doesn't mean that the city of Glendale or it's interested parties are not going to not address the situation and do what we contemplate to be in our best interests to secure that team."
Where there concessions made by Glendale in order to help the Coyotes become more viable?
"No.  We hadn't got to that point, we were still in the part of discussion, certainly when we get to the point now that we are going to be working with the parties to keep the team here, we'll cross that bridge when we come to it.  There's already a substantial investment already placed up there by the citizens of Glendale, as well as the state, and the valley, so we're gonna have respect for that.  We think all parties are gonna have respect for that, and we're gonna make sure from our stand point our interests are met."
Can you tell us what the city is doing to keep the team in Phoenix?
"We're gonna protect our interests.  In the process of that, can this team be profitable here?  We believe so.  Can this team be successful here?  We believe so.  Working closely with the commissioner, who's been very much in communication and working with us in this recent situation, and in working with the other interested parties in this team, we believe we're gonna come out with a positive resolution that's gonna be beneficial financially, and the city's not gonna have to do anything out of the ordinary."
His gut reaction, will the team be staying in Phoenix?
"Yes."
Listen to Ed Beasley on KTAR in Phoenix  with Gambo and Ash (starts at 1:30)
Tags: Ed Beasley, hockey, NHL, Phoenix Coyotes, Wayne Gretzky