August 24, 2009 – 6:15 am by Lance Zimmerman
If you want to talk about stand-up acts, at a position where there are maybe two or three marquee players who actually have a decent personality, Larry Fitzgerald is not only the best wide receiver in the game currently, he could also be one of the most genuine players in the NFL. Watching Chad Ochocinco on HBO's Hard Knocks show makes Fitzgerald seem like an even nicer guy. For whatever reason, standout wide receivers in the NFL have some of the most inflated egos and think their teams can't function without them.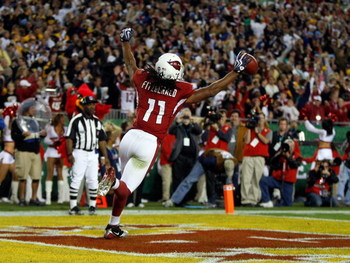 Fitzgerald is cut from a different cloth. He's very humble, and grateful for the opportunity to play in the NFL. Maybe the NFL should have a mandated Wide Receiver Symposium, and Fitzgerald could be the keynote speaker on how to keep your ego in check.
Larry Fitzgerald joined The Scott Van Pelt Show on ESPN Radio to lend validation as to why he is one of the most admired players in the NFL.
On the state of the Arizona Cardinals heading into the season:
"We're all ready right now, man. We had an outstanding post-season last year. Obviously we didn't finish what we wanted to do in winning the Super Bowl, but I think guys came back with a renewed pose and understanding of what it was going to take early on in the season for us to have the kind of success we had late."
Fitzgerald was asked about the way he carries himself as opposed to other primadonna wide receivers in the NFL:
"That's nothing I even think about. I've always been this way since I was a child. I've never really been a guy to boast or make too much of myself. I was talking to Rod Woodson and he made a really valid point to me the other day. He was like 'you just can't take yourself seriously.' At the end of the day all I really do is catch a football. I'm not saving any lives. I'm not changing anything. I'm just catching a ball."
On if he was surprised that the Cardinals made the Super Bowl last year:
"No, I wouldn't say I was surprised. I was happy we made the Super Bowl, but I don't think anyone outside of our locker room expected us to go that deep in the playoffs. That just shows you what happens when a team gets hot at the right time and we were able to parlay that into a pretty good playoff run."
On if being viewed as one of the best in the game is something that fuels him:
"It definitely fuels me. The fact that you say that I'm one of the best just adds fuel to my fire. This summer I got the chance and privilege to work with Jerry Rice and for ten straight years, more than that probably, there was never an argument of who was the best receiver. It was a unanimous pick. It was Jerry Rice. That's kind of where I want to be. I want to be the best player at my position and the best player in the business. That's kind of my motivation. I want to be the best."
Listen to Larry Fitzgerald on ESPN Radio with Scott Van Pelt
Tags: Arizona Cardinals, ESPN Radio, Larry Fitzgerald, NFC West, Super Bowl