September 10, 2009 – 11:15 am by Jimmy Shapiro
SRI continues to work in new writers. This post is courtesy of Tim Gunter from 790 the Zone in Atlanta.
When the Falcons hired Thomas Dimitroff over a year ago, not many Falcons fans had heard of him. The only thing they knew was that he worked in New England and was their Director of College Scouting. Now everyone in Atlanta knows Thomas Dimitroff. In his first year as the Falcons General Manager, they made it back to the playoffs for the first time since 2004. This season, Thomas Dimitroff and the Falcons have a reason to succeed. In the Falcons 43-year history, they have never had back-to-back winning seasons. With the drafting of Matt Ryan last year and the acquisition of Tony Gonzalez in the offseason, Head Coach Mike Smith and the Falcons look to overcome that stigma and win the NFC South and possibly win a Super Bowl title. Mike Smith and Matt Ryan were the first rookie head coach and quarterback duo to compete in a playoff contest since 1945. There is no doubt this offense will be one of the elite offenses in the NFL this season. The defense is what Falcons fans should be worried about. The bend-but-don't-break approach the Falcons defense had last season gave the city of Atlanta a headache as they had a hard time stopping anybody. That is the reason Thomas Dimitroff spent six out of their seven draft picks on defense. The acquisition of Mike Peterson will give the Falcons 'D' a veteran presence that they lacked last season.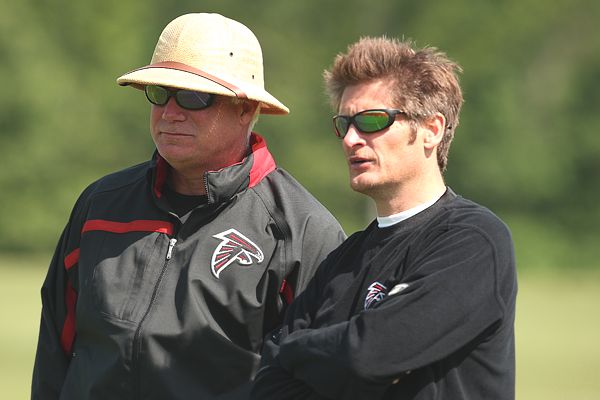 Thomas Dimitroff joined WQXI, 790 the Zone in Atlanta to talk about how he feels about the disappointing defensive preseason, on being tired of hearing about no back-to-back winning seasons and having no part of it, on the biggest difference in Matt Ryan between this year and last, and on the excitement going into his second year on the job.
On how he feels about the disappointing defensive preseason:
"Well, I think the San Diego game was a little bit of an anomaly in my mind. I think they way that we will approach the preseason from year to year is to definitely get the rotation going to see all of our players in different situations. What happened there was obviously unfortunate as far as the conversions on third down. That's something that can be taken care of and really in that situation there is a 25% completion rate to convert 3rd and 10+ in a regular season. That was way off. It was sort of out of the books. We are looking forward to jumping back in here. We have done a little bit of rearranging on the defense. Hey listen, this is about preseason and seeing who we actually need to be playing from game to game and we thing we are heading into the right direction."
On being tired of hearing about no back-to-back winning seasons and having no part of it:
"There is no question about it. Like I said last night I mean, this group here we are so focused in that very few people were aware of the 43-year situation. Again, I think it was taken as an insinuation that it was fluke. People were kind of looked around 'We are better than that. We can compete game in and game out.' There is a buzz up here at Flowery Branch. There is a belief that on both sides of the ball and on all corners of the team that we have gotten better and have improved in a number of different ways and we continue to anchor in on our plan. We are very, very fortunate as I mentioned before to have our coaching staff together and how important that is for Matt Ryan and this offense and how important it is for a number of players on the defense to be in the same scheme. Very, very important going forward."
On the biggest difference in Matt Ryan between this year and last:
"You know what? I think when Matt came out this year going back to this offseason, he worked really, really hard in the weight room. It sort of transformed his body. He has gotten stronger. He has leaned down in certain areas. His arm strength has got more zip on the ball. He has always had that sense of maturity and that element inside the pocket: I see it more and more. He is directing traffic a lot more ala some of the very accomplished quarterbacks in the NFL. Into his second year that is very, very impressive to see. I think going forward we will continue to see this maturity level rise. I just see the way he is handling things on the practice field day in and day out. His interaction with guys like Roddy White and our new acquisition in Tony Gonzalez and it's impressive to see the development of this offense."
Listen to Thomas Dimitroff on 790 The Zone with Morning Mayhem
Tags: Atlanta Falcons, football interviews, NFC South, Thomas Dimitroff