September 18, 2009 – 10:25 am by Jimmy Shapiro
SRI continues to work in new writers. This post is courtesy of Tim Gunter from 790 the Zone in Atlanta.  Frank Beamer has taken his alma mater from obscurity to become a powerhouse in college football.  Frank is in his 22nd season in Blacksburg and has had 17 winning seasons and has made it to a bowl game for an unprecedented 15 consecutive times.  Since the beginning of the 1995 season, only Florida and Ohio State have posted more wins than Virginia Tech.  With the loss of many seniors from a year ago, they are going to have their work cut out for them this season.  It doesn't help when you lose your leading rusher, Darren Evans, to a knee injury and start off the season with Alabama, Nebraska, and Miami (FLA) in their first four games.  If they can manage to win 10 games again this season along with another ACC Conference Championship, this could be one of Frank Beamer's best coaching jobs yet.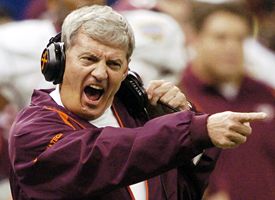 Frank Beamer joined 1620 the Zone in Omaha  to talk about the vibe in Blacksburg for the upcoming Nebraska game, what he has seen from Nebraska as they are preparing for this game, how the young running backs have performed thus far, the tough start to the 2009 season with games against Alabama, Nebraska and Miami, the difference in Tyrod Taylor's game from last year to this year, and how he breaks down the special teams practice with offense and defense. 
On the vibe of Blacksburg for the game Saturday:
"I think there is a lot of excitement.  Our fans have really talked about it a lot about how impressive the Nebraska fans and how courtesy they were to them.  That's the way it ought to be.  I am hoping our people will treat Nebraska people the same way we were treated out there. I think it's going to be an exciting atmosphere at the stadium.  I know both of us will pull hard for our football teams and we've got the makeness of a good football game."
On what he has seen from Nebraska as they are preparing for this game:
"I think they are really a good football team.  I think they have improved from last year.  I don't think there is any question about it.  I think Coach Pelini has done a heck of a job.  I know anything to do with Tom Osbourne is going to be solid and stable and that's is what has happened there in Nebraska.  I think they're back and back very quickly to where they are going to compete and be a factor in the Big 12.  I am impressed.  I am impressed with their quarterback and anybody who can throw for 74% completion. That's pretty impressive.  They throw to a lot of different receivers.  They are impressive. The offensive line is impressive.  That front four defensively and just their defensive line flying around.  They are impressive.  I think they are a good football team, a really good football team."
On the excitement of Virginia Tech's entrance to the stadium:
"Well I think it's kind of a nice entrance there.  Everybody in the stadium is jumping.  At least everybody that's for Virginia Tech.  It's kind of exciting.  It got started here a couple of years back.  You know I think it's a good way to enter the stadium."
On how the young running backs have performed thus far:
"We knew they had talent and they do.  The trouble is they are young.  You know Williams and Wilson are freshman and Oglesby got into games a little bit last year but not a lot.  When we lost Darren Evans that was a tough loss for our football team.  Not only the 1,200+ yards he got last year but and just his confidence and how he affected our football team."
On the tough start to the 2009 season with games against Alabama, Nebraska and Miami:
"I need to have a talk with the Athletic Director.  When I first came here I made the statement many times that one of the things is that they wanted to schedule better.  So I said:  So, if you talk about scheduling Alabama, Nebraska and Miami of Florida in the first three out of four games.  That is scheduling better.  Our fans are happy, but I am not sure if it's right for our football team. P laying good folks with a quality program and playing a program like Nebraska with all of the history behind that football program.  Our fans are excited and I think in the end when you play good folks like that, you get better.  I think all of us are concerned about our conference schedule.  I think you get to be a better football team when you play good folks."
On the difference in Tyrod Taylor's game from last year to this year:
"You know he is a year older.  We tried to redshirt him two years ago and haven't been able to because of personnel on our football team and how he fit that and so forth.  He has played for two years and experience is a wonderful thing.  I think he is throwing the ball better.  I think he is getting to the right spot quicker . I think he is making good decisions and I think just the experience is showing.  And I think the fact that Sean Glennon is not there you know because there was always two of them and now it's his team.  I think that is the factor.  The problem with that is we got two freshman as backups so that is not exactly what we wanted."
Listen to Frank Beamer on 1620 the Zone in Omaha with Kevin and Mike'l
Tags: Frank Beamer, Nebraska vs. Virginia Tech, Tyrod Taylor, Virginia Tech Hokies