November 11, 2009 – 9:40 am by Chris Fedor
The Warriors are a very young team, but sometimes with youth comes struggle.  Right now the Warriors are just 2 and 4 on the season and I can't see any way that they have playoff aspirations.  Remember a couple of years ago when they upset the number one seeded Mavericks in the first round of the playoffs?  Those days are long gone for the Warriors.  They are in a rebuilding phase right now and are looking more towards the future than anything else.  Because of that, there is some frustration beginning to show from some of the veteran players and one player in particular…Stephen Jackson.  Captain Jack is not pleased about the direction of the Warriors and he and his agents have been very vocal about getting traded to a contender in the NBA.  While the frustration is understandable, he and his agents have to realize something.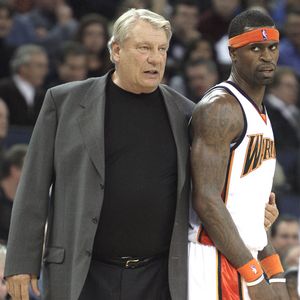 Stephen Jackson is not that appealing for many teams.  There is no question that he is talented on the floor, but he is already 31 years old, can be a headache for the coaching staff, can be extremely hot-heated, is not always motivated to play at his best, has some baggage attached to him, jacks up too many ill-advised shots and I think the biggest factor is that he has a brutal contract that could handcuff a contending franchise for a couple of years.  There are far too many concerns for teams to jump at the opportunity to trade for Captain Jack.
Don Nelson joined KNBR in San Francisco to talk about Stephen Jackson, why they haven't traded him yet, the comments made by his agents, how difficult it is to coach such a young team and his future in the NBA.
On playing the way they did amongst the controversy with Stephen Jackson:
"I told the guys after the game, I said if Jack's (Stephen Jackson's) agent wants to say all these terrible things about me, he can do it as long as Jack plays like that I don't care.  He played pretty well.  I wish he played like that every night, but anyway he must've felt embarrassed about the whole thing and he played a heck of a game."
On the things that Stephen Jackson's representatives have said about him:
"Yeah, that's really below the belt.  I've never met the guy.  He doesn't even know me.  I wouldn't know what he looks like.  I thought Dan Fegan was Jack's agent.  What did I know."
On his agents not going about things the right way:
"We know Jack wants out, we're trying to accommodate him.  That's not gonna help.  It's harder than hell to trade that guy.  He's got his history; he's got a long-term contract.  We're trying."
Host: I want him out:
"Well I think they are trying to do that.  But again you gottta find somebody that is willing to add him for four years and we've gotta get something back for him.  Even if it's a short contract and we can play the free agent market.  Something that's gotta make sense.  You just can't give away a guy for nothing, send him home and not use his talents.  The guy makes 36 million over the next four years right?  (Host: Can you trade him to the Albany Patroons?  I just want him out.)  Well you know what, he actually did finally play a game in which I really thought he was motivated so that was good.  I think he's been trying, it's not like he's doing anything wrong.  It's hard to give that little extra in a game when you don't want to be there and I understand that.  Hey, we're trying and we haven't been successful at moving the guy that's all I can tell ya."
On whether or not he is disappointed by the team's bad play recently:
"Very, very, but I wasn't disappointed in the bigs.  There were some disadvantages that made it look worse than it really was.  When people have a dominance over you in certain areas of the floor sometimes it makes you look worse.  I'm not going to defend our performance.  It was really terrible.  We did something about it the last game.  If we can play the way we played the last game, we'll win some games."
On what keeps him motivated coaching this young team:
"Well its not easy all the time because you have to understand going in that we are not a powerhouse, we're going to take a licking once in awhile and we're not going to play up to our potential that I see us playing.  Going in, I have to be patient and understand it's going to be a hard year that way.  Kinda like Jack, I'd rather go to a winner and coach a bunch of veterans that know what they're doing and win two out of three and three out four every time you go out.  (Host: Packaged deal since you love Jackson as you've said on the show, you can go with him.)  No thank you, no thank you (Laughing)."
Listen to Don Nelson on KNBR in San Francisco with Razor and Mr. T 
Tags: Don Nelson, Golden State Warriors, KNBR, NBA, Stephen Jackson