November 11, 2009 – 9:05 am by Chris Fedor
The Redskins are bad.  I mean really bad.  There is a lot of blame that can be placed throughout the organization, but a good portion of it has to be directed at the Head Coach.  While Dan Snyder, Vinny Cerrato and the players themselves should get some blame for the team's struggles halfway through the season, Jim Zorn should also get a big portion of the blame and should definitely be on the hot seat.  For starters he was the guy calling the plays at the beginning of the season for an anemic offense that has yet to score more than 17 points in a single game. He benched his starting quarterback in the second half of a game and then brought him back as the starter for the next game and despite playing a very easy schedule by most teams standards, the team is just 2-6.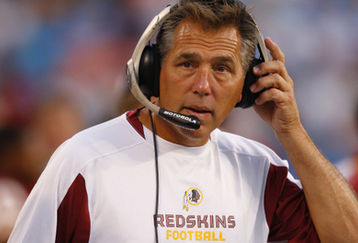 Washington thought they could be a contender this year, they thought their 2-6 record to finish the season a year ago was a fluke and they were aggressive this offseason in free agency as they brought in Albert Haynesworth.  However, this team is nowhere close to where many people thought it would be halfway through their season and looking at their schedule over the next eight games, I see just one winnable game.  But then again I thought Kansas City, Detroit and Carolina could've been wins for the Redskins as well.  If the team finishes the second half as bad as they started the first half, I can't see Jim Zorn staying in Washington, not with some of the coaching resumes that could be returning to the sidelines in 2010 (see Holmgren, Gruden, Cowher, Shanahan, and Dungy).
Jim Zorn joined ESPN 980 in Washington D.C talk about the play of Jason Campbell, Ladell Betts and the impact he had last week with the injury to Clinton Portis, DeAngelo Hall's scuffle on the sidelines, and losing his play calling duties.
On keeping Jason Campbell protected:
"The Atlanta team, they really do have a pretty good defensive team.  They run around, they play hard, they play tough and we had to come out in the second half and try to match that toughness and I think we did.  This Denver team is an inspired team, they're 6-2 and they're playing very, very well.  On defense they get after it.  What I want to do is block the first four guys.  I just want to block the guys up front.  Normally in a pass rush you've got four guys (Host: you had three guys on Sunday at times Coach that you struggled to block.)  We didn't block three guys one time.  Exactly right. We got sacked on a three man rush.  That didn't have anything to do with Clinton (Portis); it had to do with the guys up front.  Some of those battles are just physical battles that they have to win if we're going to get Jason (Campbell) comfortable throwing the football.  Those are things we've worked on and we're going to continue to."
On Ladell Betts picking up the slack for an injured Clinton Portis:
"Well I think they're two different kinds of runners.  Ladell (Betts) certainly picked up some slack and really ran hard.  That's really been his reputation just to come in, get his legs moving and try to get all that he can.  He made some very good run decisions and played hard.  I think everybody has known even before I got here that Ladell Betts was a quality back and has had some success as the running back when Clinton has gone down.  He certainly did the same this last week."
On whether DeAngelo Hall will move on from the sideline incident:
"I think what's happened is it's something that the press wants to continue to have an answer for and he continues to get asked about it.  (Host: To be fair though coach he brought it up.)  But he was being interviewed at the time.  He didn't try to have a press conference over it either.  Our players are available to the press and all you have to say is what happened on the sidelines.  So he had his take on it.  I think the answer to the question is he will move on from it.  He was upset about it.  He's a vocal kid and he likes to tell people how he feels.  I think it'll just move on, he'll concentrate and he'll be ready.  The media will continue to try and bring it up, hopefully we'll try and get past it and I think it's that type of situation really."
On missing the duties of being a play caller:
 "Well, it depends on if you're trying to throw all that into one emotional excitement about only calling plays and that's the only thing I'm good for.  I would say no, not in that area because I think I try to take the overall responsibility of being the head football coach and getting everybody to help these guys not jump offsides or to not lineup in the neutral zone.  I'm responsible for that stuff too.  Those are the kinds of things that keep the game going and having to pay attention.  It certainly takes away something that I think I'm very good at and that's a frustration."
On whether or not being a head coach has affected his life outside of football:
"I've been a player and a coach for a lot of years and I haven't changed much from when I first started into professional football until now.  I have different responsibilities.  There's sort of a different mass of recognition if you will as far as recognizing me out in the public.  That's the nature of the business that were in.  I enjoy that, I don't shy away from it, but I'm not out looking for it either.  (Host: And you enjoy the area too right?)  I do.  I've really enjoyed all the things that the D.C. area, the Virginia area and the Maryland area and just the surroundings…it's just an amazing place.  I love that part, I hope I'm here for a long time and yet I've been at it for awhile so it's not something that's so new to me that I haven't been able to handle."
Listen to Jim Zorn on ESPN 980 in DC with the Sports Fix 
Tags: Dan Snyder, DeAngelo Hall, Jim Zorn, NFL, NFL coaches on the hot seat, Washington Redskins