March 3, 2010 – 9:30 am by Paul Bessire
Through 11 weeks of the 2009 season, the Carolina Panthers were 4-7 and had lost their top two quarterbacks – Jake Delhomme and Josh McCown – to injuries. They turned to Matt Moore, an undrafted, third-year player out of Oregon State, who had started just three games in 2007 and did not throw a pass in 2008.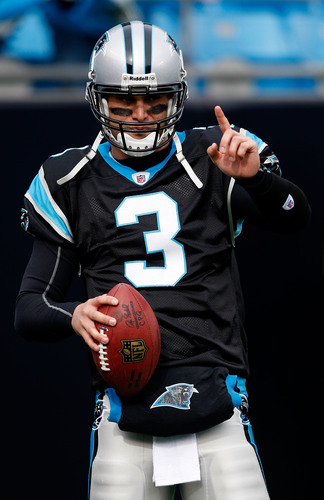 Over the last five weeks of the season, Moore threw eight touchdowns to just one interception while leading the team to a 4-1 record including home wins over both NFC Championship Game participants: Minnesota and eventual Super Bowl champion New Orleans.
Now, Moore sports a 6-2 career record as a starter, completing 59.4% of his 249 passes for 1,783 yards, 11 TDs and 7 INTs. He's also about to become a restricted free agent. With his success, Delhomme's age and injury concerns, and the lack of depth at quarterback in the free agent market and draft, the argument is strong for Carolina to do what it can to bring Moore back, but nothing is certain at this point.
Matt Moore joined the Mac Attack on WFNZ in Charlotte to discuss his contract, competing for a starting position, free agency, working with Jake Delhomme and his new nickname.
On contract negotiations with the Panthers:
"We have heard a little a bit and nothing is final yet. We are just waiting. It's all going to come to a meeting point here in the next couple days and we'll know by then. We are just anxious to get that done and get back to Charlotte and start working again. There have been talks (about a long-term deal). Nothing major; very brief conversations. I don't know if that is out of the running right now. A lot of things could happen in the next couple of days so we will just have to wait and see."
On testing free agent market if not offered a long-term deal:
"You know that is always a possibility. I think it all comes down to what other teams need and how bad they need it. Like I said, it will all come down in the next couple of days. But, there is no other place I would rather be than in Carolina. The football is great. My wife loves it there and we want to be with the Panthers."
On having to compete for Carolina's starting job next season:
"I completely expect it. In this game, there is always competition. Even if they say there is no competition there is. It doesn't bother me at all. With both Jake and I, the only thing that matters is winning. We wouldn't have jobs if we didn't win. If he's out there, great. If I'm out there great. We'll just have to see how it goes."

On what it was like to play with Jake Delhomme:
"He was awesome. Are you kidding me? It couldn't have been a better situation with him. He was awesome. He was unbelievable. You throw in McCown and A.J. Feeley and there could not be a better situation for a young guy. Those guys were everything you expected and totally stand up guys. It was great."
And on his thoughts about being glossed "Matty Nice":
"I'll co-sign that. I like that. That ain't bad. The fact that there's people out there making up nicknames for me – you know I love that."

Listen to Matt Moore with the Mac Attack on WFNZ in Charlotte
Tags: Carolina Panthers, Jake Delhomme, Julius Peppers, Matt Moore, Matt Moore should be the starter, NFC South, Steve Smith, WFNZ