March 15, 2010 – 7:45 am by Paul Bessire
Rich Rodriguez is not your typical head football coach in the Big Ten. Born and raised in West Virginia, Rodriguez spent all but three years of his life in the state where he was a locally-produced hero before shunning his roots for the pressure-packed Big Ten and the 100,000+ fans who fill the "Big House" in Ann Arbor, Michigan on Saturdays. He also brings with him a culture-shocking, aggressive, attacking, spread-option offense with a mentality that the conference has never seen.
To date, just two seasons into his career, it hasn't worked. Michigan is 8-16 under Rodriguez. 2010 will be a crucial year for the program, as Rodriguez spent his first two seasons focused on getting the players he needs to win. Now, he will need to do that.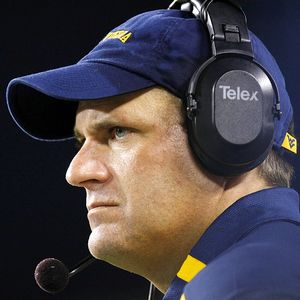 With a pending NCAA investigation into practice habits, a clear divide among alumni supporters and a spotlight infinitely bigger than the one shining on him when he once had Pac-Man Jones and Chris Henry on the same team, coaching football isn't necessarily Rodriguez's only concern as we enter Spring practice. But it is all he wants to talk about.
Rich Rodriguez joined WDFN in Detroit to discuss Spring practice, early enrollment by freshman, turning around the program, the importance of competition, and his incoming recruiting class.
On what he's looking for in Spring practice:
"We gave our players five kind of main goals. One of them is to improve their fundamentals and learn their positions. The other one as for the players is to prove that they can win – that we can win with them playing. At that's very important for our young guys. There are guys who red-shirted or who were injured so this is a very important Spring for them."
On the advantage to freshman to enroll early:
"It's certainly going to be beneficial to them – not only from what they are going to do in Spring practice, but to have them have six or seven more weeks in our strength and conditioning program. It helps them make some advances. But they are going to learn so much in these 15 practices. We tell them that it's a bonus to play here. We don't expect them to be ready to play or start after Spring practices, but at the same time it is a great proving ground for them. I don't put too much on them because we have to remember that they are still true freshman and are supposed to be in high school right now. We're excited that they are here and that they are going to have a few practices to show themselves this Spring.
On what it takes to win after disappointing first seasons:
"We think about it every day. I know our fans do as well. I'm obsessed. I think our staff and our players are obsessed with it too. We know the last two seasons have not gone the way that anyone would like. At the same time, we have made some progress and put the foundation down. Now we are ready to start get going with more wins. It's important to us to understand the process we are going to go through. I don't want the players to have a certain number of wins in mind. I want them to go through the winning process of how they prepare every day and how they do the things each and every day to make themselves successful. As coaches we got to give them the tools to do that. I think we have and I think the better times are coming because the guys are growing up and understanding that process."
On the importance of competition to the improvement of the defense:

"Offensively last year we made some steps because we had some competition. Defensively we did not make as many steps. But we are going to have more competition and I think we can play at a higher level defensively this fall because we are going to have more numbers there – more scholarship numbers. We are going to be young. Some of those freshman and sophomores are going to have to play and play at a high level for us. But we are going to have some bodies there that are competing and I think our guys are anxious to prove themselves."
And on the incoming, highly-ranked recruiting class:
"We think we met our needs. As I mentioned before, we had some needs defensively at all three levels – line, linebacker and secondary – and we think we met our needs. The other part we were looking for is to have guys that are athletic and competitive. I think that's important for us to have those guys who can play multiple positions, but are so competitive that they will do whatever we ask them to do at whatever position. The guys, especially the defensive guys that we brought in, are guys that can play multiple positions. As they learn in the program and learn the system, as coaches we need to teach them multiple positions. That way our depth is better. And I think that's going to be the case."
Listen to Rich Rodriguez on WDFN in Detroit.
Tags: Brandon Graham, College Football, Michigan Wolverines, Rich Rodriguez, Tate Forcier, WDFN