May 4, 2010 – 10:30 am by Michael Bean
Of the reportedly 75 players that were at the first Seattle Seahawks mini-camp, 17 were apparently there on a try-out basis. Two of them wound up signing contracts after an impressive couple of days of work. Both happened to be former players for Coach Pete Carroll at USC – fullback Ryan Powdrell and a name you maybe had forgotten, wide receiver Mike Williams. The former 1st round draft pick back in 2005 by the Detroit Lions, who struggled keeping his weight in check, played two season in the Motor City before being traded away to the Oakland Raiders. Not exactly ideal situations for an athlete struggling with discipline. Williams has a fresh start now though in Seattle and a new lease on life. He's gotten his weight down to 230 pounds and is hoping he can make the most of this opportunity – perhaps his last in the NFL.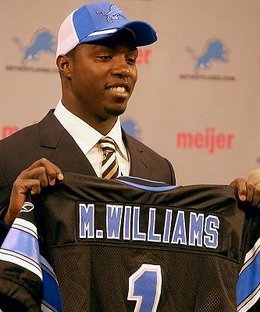 Williams joined 710 ESPN in Seattle to talk about how much weight he has lost since peaking at 270 pounds, how his weight got out of control in the first place, why his situation in Detroit played out the way it did, how he blames nobody but himself for how his career has gone up to this point, when he realized it was time to add some discipline and focus in his life, and how he's thrilled and appreciative for this new start in Seattle.
On how much weight he has lost:
"I probably lost 40 pounds man. The most I got to was probably 269, 270."
On what he was eating that maybe led to his weight issues:
"Everybody jokes, Big Mac Williams and all that nonsense. It wasn't really like junk food like that. I hate to say it, but it was good eating like steaks, pasta, stuff like that. Just not being active, not being disciplined, eating late – it just kind of piled on."
On what went wrong during his stint with the Lions:
"Some inflicting bad habits, as well as being with an organization that didn't really have a plan for me, to say it nicely. Detroit, I'm really blessed coming through my process and then Matt Millen and Mr. Ford and Coach Mariucci still drafting me as high as they did – I'll always be grateful to the city and to the organization. But I just didn't think it was a good marriage, and part of my immaturity was fighting them on what I wanted and openly showing how unhappy I was. Obviously they had more control over the situation than me, and if I could do it all different, it would be. But it's a live and learn life and I just apply up all those bad memories and bad decisions to this time around…"
On when he realized that it was time for him to get his act together:
"I kind of went back and forth to be honest with you, more on the negative because I just thought about how hard it is to play in the NFL. Just how hard it is to make it, how hard it is to stay around and guys coming out of college and free agents coming in every season. I really thought about how hard it is to just make it in the NFL. And then being in my position and having had the opportunity and wasted it, so the baggage and the perception and everything that I would have to go into the next go around, that's what made it difficult for me mentally because I was trying to be realistic, and it's just so hard to play. But then I just kept at it, kept working, my daughter came up to me one day and she said 'dad, I want you to play football.' She was like 'you're a football player, but you don't play.' And that was kind of the like the reflection moment for me. I was like I can do this if I just have a little discipline and have a little focus. But I had no idea my opportunity would come in the time-frame so fast. I thought I would have to take a different route, whether it was the CFL or something, I don't know. I was just trying to give myself the best opportunity and I was just fortunate enough that Mr. Schneider and Coach Carroll gave me an opportunity to come out and try out for a job."
On if he found it difficult to live up to all the expectations placed on him coming out of college:
"I don't think it was hard, I just think I didn't give myself the best opportunity. I'm not going to point a finger at anybody or anything, just knowing what I know now and the approach I have to the game now, and the attention to detail, just things I learned the hard way that I wasn't equipped with coming into the league. I think my year off kind of changed everything because I went from having the structure of football my whole life to literally going through a year of having money and trying to maintain, working out, you know, lost a lot of the edge and the focus that I had which made me successful in college coming off that year. Like I said, I'm not pointing fingers, that was all me, regardless of the situation in Detroit and getting drafted there. So I just look at it as sometimes you learn the hard way on things, and I just happened to, my first crack at the NFL was the hard way."
Listen here to Williams with Kevin Calabro on 710 ESPN Seattle (interview begins at 39:30 mark)
Tags: 710 ESPN Seattle, Carroll reunited with Mike Williams, Mike Williams signs with Seahawks, USC Trojans, wide receivers busts in NFL Draft, worst 1st round draft picks in NFL history