October 27, 2010 – 11:30 am by Chris Fedor
While they have only played six games so far this season, the Cowboys season is over. Not only are they just 1-5 on the year, but they just lost their starting quarterback for anywhere from 6-8 weeks. They were a team that came into the season with huge expectations, they were looking to build off their first playoff win from a year ago, and they were looking to be the first team to ever play the Super Bowl in their own building. Instead, they have gone in the opposite direction. The Cowboys are the most disappointing in the league through seven weeks. Despite having a collection of talent that is as good as any team in the NBA, the Cowboys are currently sitting with the same number of wins as Detroit, Carolina, and San Francisco. It's not in Jerry Jones' makeup to make a coaching change and the players have to be accountable for the terrible play too, but until Wade Phillips is no longer in Big D, the Cowboys will continue to underachieve.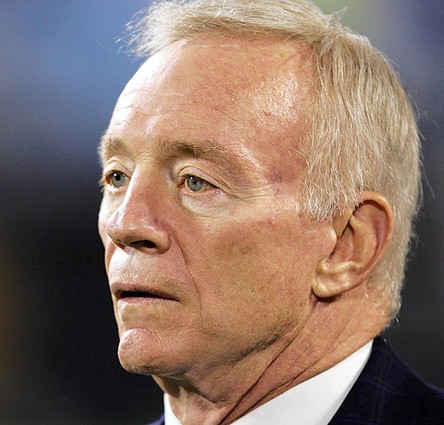 Jerry Jones joined KRLD in Dallas with Jagger and Barsky to talk about losing Tony Romo in the Monday night game against the Giants, how much of a loss it is, what happened against the Giants the other night, whether or not he is comfortable with Jon Kitna at quarterback, and why he won't make a coaching change.
On what they know about Tony Romo's injury:
"No we don't. We didn't do any more X rays or MRI's last night. That's the first order of business today. We are sure that he's had a fracture. The question will be whether we operate or let it mend on its own. They'll make that decision here this morning. Just on an impromptu basis, we were given six to eight weeks by the medical people and the doctors. We'll leave it at that. He's committed, he's a quick healer, it's his left shoulder, and we'll see what all this means."
On whether they had a letdown against the Giants after the injury to Romo:
"I've said that I was at least encouraged by our injury situation this year especially coming off last year. We had the lowest games missed by our starters last year in the NFL and that added to the disappointment. This year we were moving along at a pretty good rate, but this is certainly is about as critical of a position as you can imagine and all that creates the obvious. The other thing is that we did have some things going for us although I do want to give the Giants some credit. We had three turnovers and we looked up and we were only points ahead at that time and that concerns you because those turnovers should have had more points on the board relative to the Giants. Then of course we did have a letdown, there is no question about that after Romo's injury."
On whether this is a time to experiment with players:
"No. You don't do that in my opinion and it'll be that really. The bottom line is we go with (Jon) Kitna. We get him ready to play the games. We've got ten games left and I've been there and you don't have the luxury of giving up games. It's a tough job developing a quarterback, but you don't give up games. You say Jerry what do you have to lose? You just don't do that. There's a lot of collateral aspects to this thing that you have to consider when you start going in there and working on an if situation at quarterback. I've been there, we've done that, and it was not successful."
On what positives he could take from the loss against New York:
"I thought at the end that we saw when it was all said and done you saw what a playmaker and player that Dez Bryant can be. He's got something that he has to work on but he's a unique and real playmaker. We can do some things with him. A part of this game is adjusting when you lose your quarterback and were going to get to have the opportunity to see how we do there. Relatively speaking we pay Kitna a lot of money to win some ball games. Let's see how it goes."
On why he won't fire Wade Phillips:
"There's no philosophy to it, but it's not like you play 100 or so ballgames or 80 ballgames. You don't have but a few ball games relatively speaking. We have 10 ballgames left and I'm just not comfortable doing that. I've never done it. I think our best chance to win the next ball game, the very next chance is to keep as much continuity in there as we can. Sounds hollow. I understand it does. It's a natural thing to want to freshen up and do something different, but I'm not comfortable doing that when it comes to the football team."
Listen to Jerry Jones on KRLD in Dallas here
Tags: Dallas Cowboys, Jerry Jones, KRLD, NFC East, NFL