January 25, 2011 – 7:45 am by timgunter
When Jay Cutler left the NFC Championship game after the first series of the second half it was rumored that he was taken out of the game due to a torn knee ligament.  As to which ligament he tore, that remained a mystery, but you could tell he wasn't the same player he was the week previous against Seattle.   I couldn't tell if the Packers defense was playing that good or if it were Cutler playing that bad.  So when the Bears inserted third-stringer Caleb Hanie into the game and he was able to drive the team down the field and score in his first possession, I realized Cutler played a poor game and hoped it was due to his torn knee ligament.
But yesterday's MRI on his knee revealed it was a sprained MCL instead of a torn MCL and the city of Chicago was livid.  Their quarterback left the most important game of his career and the franchise's most important game since Super Bowl XLI for a sprained MCL?  Philip Rivers had arthroscopic surgery so he could play in the '08 AFC Championship game with a torn ACL.  Maurice Jones-Drew played all season with a torn meniscus in the left knee.  So why couldn't Jay Cutler tough it out?  That question remains unanswered.  If you are Cutler you had to be hoping you needed surgery.  While no one wants to go under the knife, everyone's opinion of the injury is better if they have to open you up.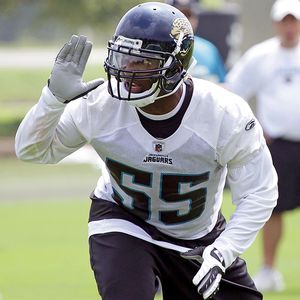 Kirk Morrison joined XX Sports Radio in San Diego to talk about if his Twitter comments were from him, whether he has ever had a strained MCL, and if he is being critical of Jay Cutler.
If his Twitter comments were from him:
"It was my opinion and actually I am not only a player I am a fan and also I am an analyst.  I sit back and watch these games and I am just a self-observant fan.  As I am watching the game you sit there and say hey, Jay Cutler is the best option for the Bears to win a football game and no one can argue about that.   But then when you see him they say he will not return to the game, his return is questionable, you say, Ok, what is the problem?  What is wrong?  Then all of a sudden they say he has a strained knee, a PCL, ACL, MCL, and I said, Ok that is fine.  My tweet was more, why is he standing up on the sideline?  I know that if I had that injury and they told me that I could not return and they took my helmet I would be sitting down with an ice bag on my knee or maybe be on crutches or do something to show that I am unable to return, but when you say a person is questionable his return is questionable but then at the same time he is standing over there almost like you don't know if he is going to go back in the game or not or he looks like he is over there on the sideline just hanging out, it kind of rubs a player the wrong way but I guess you kind of have to know Jay Cutler to understand that is  just his demeanor.  That is just who he is."
Whether he has ever had a strained MCL:
"I have had injuries.  I have definitely had injuries.  I have had a strained MCL.  I did have one a couple of years back.  It is just one of those injuries that you just kind of got to work through it.  You are never going to be 100% but it is different for me.  I am a linebacker and he is a quarterback.  He uses that leg to plant a lot of times to make throws and for his accuracy.  As for me I kind of use to go lateral and I go straight ahead so this probably does not affect me much."
What a strained MCL feels like:
"Well it is hard for you to plant, I would say.  We are talking about going forward, for him it is constantly, for me my leg was always stiff.  It always felt stiff.  Case and point, I had a running back, who I played with this year, one of the best in the league, Maurice Jones-Drew, he played with a torn MCL all year long.  It is something that you kind of have to stay on top of and something that you have to continue to get treatment on and then hopefully at the end of the year you can opt to have surgery on and sometimes in each case you get rest and it heals on its own.  It is just an injury that kind of varies from person to person and position to position."
If he is being critical of Jay Cutler:
"No, you have got to understand that I am being critical of the situation in what I see at home.  I feel that my voice is the same voice as a lot of other fans and what people see.  What we see on one of the biggest stages, an NFC Championship game, which I think players in this league would die to be in that position, will give anything.  I have never even been to the playoffs let alone an NFC Championship game, and for me to have a strain or something or whatever it may be, what kind of injury, I just know how I am as a football player, you would literally have to drag me off that field.  You have to take my helmet from me.  You have to literally carry me off the field because all of the hard work we put in not only from July but we are talking about the mini camps, OTA's, everything, all of the hard work, the film work, the practices and it comes down to one game and it comes down to 60 minutes and for you not to be able to go, it hurts.  For us to look as a fan, an NFL observant, you look and see what happened with Jay and you are like he is hurt but yet he is on the sidelines just kind of looking around or not really, it is the demeanor more than anything.  I have never questioned Jay Cutler's toughness.  People forget that he has type-1 diabetes, which is something that affects my father and affects people in my family, so I understand what he goes through, but on that stage, yeah his knee was hurt, but it is a demeanor about it.  It just didn't seem like he was kind of nonchalant about the situation knowing that in that game could have put you somewhere that people who play this game wish they could just have to be on that stage, wish they could be in that opportunity to go on to the Super Bowl and win something that so many have tried but never really have accomplished."
Kirk Morrison joined XX Sports Radio in SD with Darren Smith
Tags: abandoned his teammates, Chicago Bears, critical of Jay Cutler, Jay Cutler doesn't finish the game after injuring his knee, Kirk Morrison, knee ligament, NFC Championship Game, Oakland Raiders linebacker, Soldier Field, sprained MCL, strained MCL